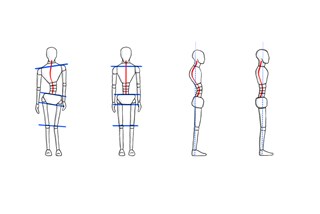 Why come from treatment
Relieve back, shoulder or neck pain
Relieve problems in the leg such as sciatica, knee pain, shin splints, cramp in toes or foot imbalances (pronation/supination)
Reduce recurring injuries
Regain function after accident or surgery
Improve athletic or professional performance (music, dance, running, cycling)
Revitalise heavy or tired arms, relieve pain in the elbow or carpal tunnel symptoms
Maintain correct posture with less aches and pains
Improve balance, flexibility and strength
Recapture and maintain the fluidity and grace of movement
Seek knowledge and advice on 'fascial pain'
Interested in experiencing the Anatomy Trains


Why come from treatment
Relieve back, shoulder or neck pain
Relieve problems in the leg such as sciatica, knee pain, shin splints, cramp in toes or foot imbalances (pronation/supination)
Reduce recurring injuries
Regain function after accident or surgery
Improve athletic or professional performance (music, dance, running, cycling)
Revitalise heavy or tired arms, relieve pain in the elbow or carpal tunnel symptoms
Maintain correct posture with less aches and pains
Improve balance, flexibility and strength
Recapture and maintain the fluidity and grace of movement
Seek knowledge and advice on 'fascial pain'
Interested in experiencing the Anatomy Trains

The aim of KMI sessions
"To align and balance the whole body allowing you to move with more ease, fluidity and grace".
Below are two examples of structure; a) before KMI and b) after KMI sessions. By releasing fascial restrictions within the body it regains lift, elasticity and balance.  


What to expect
Practicalities
The treatment room is on the first floor with no lift access
There is free parking outside the clinic
A typical session can last 1.5 to 2 hours.
Most KMI sessions are done in underwear or shorts and sports top/bra.
KMI work is done on a massage table, standing or for certain moves on a stool or bench
Most patients come for sessions fortnightly
You may be given stretches to do in between sessions
Payment can be made by cash, cheque or bank transfer
24 hours notice of cancellations is required
A typical first session
On your first appointment, Angela will gather a detailed medical case history from you and ask what you wish to achieve from KMI.
Before working on you, your structure will be assessed and the goals of the session discussed with you.
With your permission photos will be taken in order to give you a visual sense of the 'before' and 'after'.
Depending on the session priority; we will begin by working on the Superficial Front Line with you lying on your back. 
The first leg: I will work from your toes, up the front of your shin and thigh to your pelvis freeing fascial restrictions.
You will then get of the couch, have a walk and feel the difference between the two legs.
Same again on second leg.
I will then work up the stomach onto your sternum beginning to free your ribcage to help improve breathing.
Followed by some light work on your neck.
The session will end with some specific work to balance your structure as needed on the day.
The techniques
The techniques are hands on (fingers, hands, arms) and involve your movement. They feel different to massage because we are working at a fascial level to release restriction.
Each KMI session deals with a different fascial plane or set of relationships in the body, progressively working around the body, and from superficial to deep and back again.
The process of opening the tissues can involve sensations that sometimes feel "oh yes that's it" or may burn like a yoga stretch or exercising some long unused muscles.
I may not work where you are reporting symptoms, as the patterns that feed that problem are body-wide. A whiplash, for instance, is a problem of the neck for some days, a problem of the whole spine within a few weeks, and is linked to a whole body pattern within a few months.
What happens inbetween the sessions
Your knowledge of anatomy and its connectivity within your body will grow.
Many patients can go through emotional change as the body's tissue changes. 
It is not unusual to have odd feelings, physical or emotional, between sessions. Please do contact me if they are cause for concern. Often, old long-forgotten pains will resurface for a time.  This is a positive sign that the process of unwinding is well underway.  Please do look at 'During KMI' (right)
View your KMI series as a project, with a beginning, middle, and an end; not an on-going therapy.  The initial 4 sessions deal with the superficial layers of the body, the middle 4 sessions with deeper layers of the body, and the last sessions of the KMI process integrate these two layers and bring the result into everyday movement. Results will continue to accrue after you have finished your final session.
KMI is a wonderful 'tonic' for your posture and movement.  Do not undertake KMI without medical permission if indicated, or if suffering from 'hot' (inflammatory) disease. KMI can be remarkably effective for chronic pain patterns of a structural nature, but is not designed as a 'curative' for any disease, or as a 'first aid' remedy for recent injury. Please check with me if you are unsure whether KMI is contraindicated.
Clients often return once a twice a year for a 'tune up' session, to ease the effects of the slings and arrows of outrageous fortune. Others simply go on to some other maintenance routine such as yoga, Tai Chi, Feldenkrais, a workout routine, whatever is appropriate to them. Still others return periodically for a shorter series of sessions, advanced work designed to take the process deeper into your body and your experience.
During your session
Once you start your KMI sessions, here are some suggestions for making the most of the experience.
The KMI series is a project, a project of realigning your body, educating your kinesthetic sense, and reclaiming your whole bodily self from the many alienating influences we have in our culture. You may find that some of the following ideas are more to your liking, while others to not fit your situation – consider them all, and then take what you like.
It is recommended that you keep a journal during the process – you may be surprised at the changes as evidenced by your sensations, dreams, attitudes, or experiences. Start by standing in front of a mirror, and writing down everything that you can see, think of, or feel about your body. Be as honest as you can, noting areas you like, ones you do not, the areas that give you pleasure, and any chronic aches or pains. Think back to the things that have affected your body shape and body image – accidents and surgeries, incidents and imitations, your parents and your heroes. Try to make an entry just after and just before each of the sessions in the series, as well as any other time you are so moved.
Leave time for a walk before and after your session – this will give you a chance to feel the before' and 'after' in your body, and in the familiar kinesthetic experience of walking. The walking will help you integrate the changes from the session as well, and give a chance for your head to clear before returning to the everyday absorption of driving and the rest of it. You could, for instance, simply park your car several blocks from the office.
During the session, the most benefit is derived from letting your practitioner in. It is common to react by tightening or pulling away. If your practitioner is creating too much sensation with their pressure or speed, let him or her know that they should lighten up, or slow down, or get out. While your practitioner knows what he or she is doing, you know you the best. This is your session, and the best results come with your ability to stay with the work and let go with it.
People have different ways of opening up to the work. It is voluntary but subtle - bring your awareness to the part that is being worked, and accept the pressure. But if the pressure is so much that you have to mentally 'leave', then the work is too hard, and probably less productive. The exception to this can be an area that was physically traumatized and is still storing a lot of pain. Here, the pain can be intense, but it is pain leaving your body. In any case, develop a dialogue with your practitioner about how they can best work with you.
Between sessions, listen to your body. We are accustomed to dictating to our bodies from above. During the series is a time to listen for the messages coming up from below. Your body may want you to use it more – you may feel restless, for instance, so go with it: dance or do some stretching. Your body may give you signals of needing more rest as it repairs itself – go with that if you can.
Break up long periods of sitting with movement. Give yourself a few minutes break during every hour of driving, for instance, or do some stretching during long bouts with the computer. Long-held patterns of sitting can be very damaging to our structural integrity.
A warm bath on the evenings after a session is often a treat, and adding Epson Salts (magnesium sulfate) to the bath will reduce any residual soreness.
You may notice odd stresses and strains in your body in the days following a session, as your body readjusts its tissues to the changing forces. This is normal. These feelings or pains should be passing – your practitioner will want to know about anything that lasts more than few days, or anything severe or worrying.
Likewise, you may feel odd emotions between sessions, coming seemingly from nowhere. This is normal and these too should pass. As much as you can, just accept and watch them happen. Again, anything lasting should be reported to your practitioner.
Avoid imposing an ideal on your body – holding yourself into what you think of as a 'proper'posture. The sessions are designed to bring you toward a better balance without effort. Pinning your shoulders back or tucking your tail under to where you think it 'should' be will only get in the way. Your body has its own wisdom - allow it to unwind toward its own natural length and balance. In the end, this may conform to some plumb line or grid, but it very well may not. To thine own self be true.
Your KMI practitioner may give you exercises or awareness designed to help overcome old habits between sessions and bring in the new, but this awareness should be tried on gently and frequently, not imposed or held for long periods of time. Holding someone's (even your own) idea of 'good' posture will only substitute a new set of strains for the old ones you left behind.
Many times, the most helpful thing that the client can do is to notice when old patterns of holding are creeping back in and drop them. Noticing them as they reassert themselves is easier after they have been released in the sessions, but they do have a way of creeping back in. Your job as a client is to notice these holding patterns and just let them go, as often as necessary. After a period of watching the tendency come and go, it will simply relent and the new position will be your 'natural' place. Remaining gently sensitive to what your body is doing is your chief responsibility in this process.
Your body will also give you messages about your environment. Your way of standing over the sink, or, as mentioned, sitting at your desk may need to change to be consonant with your 'new' body. Your practitioner can help you with these adjustments, but you can also stay alert to when you are using yourself in way that no longer works.
You can expect that the novelty of the changes you feel right after the session will feel less pronounced toward the end of the week. They are still there – it is just that your body has become more used to them and integrated them. The KMI series is carefully worked out in a sequence that is designed to prevent you from regressing. In fact, you can expect positive changes to keep developing in the months following the end of the series.
Finally, enjoy yourself! The KMI series is a wonderful way to explore your body posture and movement. It was so important and positive for your practitioner that he or she took it up as a career! We look forward to sharing this voyage of discovery, healing and ease with you
Get in touch
Angela Radley (Donovan)
2 The Covert
York
YO24 1JN
Telephone: 07950 028 016